I'd like an ocean view: in my bathroom
Gentle dunes of sand, driftwood, seashells, the rhythm of the waves, pebbles on the beach: the seaside is most of all a refreshing dose of nature. To give your bathroom a vacation getaway vibe, you need to know how to evoke the spirit of the seaside. Here are a few tips to help you bring a little of the beach into the home — with subtlety and taste.
Natural ocean shades
Let's start out with colours. Blues are of course the first to come to mind, but certainly not the only option. The seaside is also signified by sand, rocks and pebbles. The lighter shades inspired by these elements also bring home the calm and relaxation of the beach. These tones can be nicely contrasted with neutral tones of grey, beige, greige white and sand, with a slightly desaturated blue or green. You may want to consider, for example, blue-grey or sea green to evoke that refreshing seaside ambience.
Seashore materials
When it comes to materials, you'll want to stay up close to nature and keep it raw with wood, concrete and stone. Think wooden strip panels on the walls or a spa-style bathmat with small slats that says relax. Use light wood or white-painted wood to give the feeling of finding driftwood on the beach. But be careful: wood and humidity are not the best partners. Be moderate in your use or even choose imitation wood. For the shower and bathtub, ceramic remains a practical classic that perfectly highlights the ocean vibe.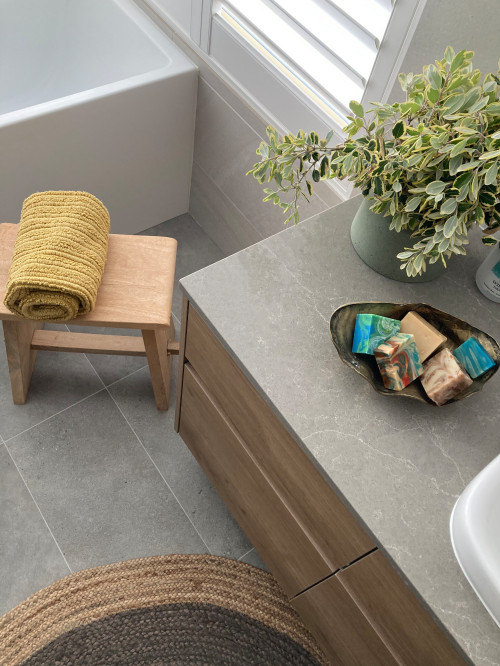 Par Despina Design 
Your space to relax
For a zen, marine atmosphere, your bathroom needs to breathe. Don't overcrowd the space and make sure it's easy to move about. A freestanding bathtub is a very nice option, particularly in this type of bathroom, but only if it has enough room to stand out unencumbered. In terms of lighting, find a balance that's appropriately practical but also fosters relaxation. For a natural result, a dimmer is a must – dimmers are standard practice at Groupe 3R.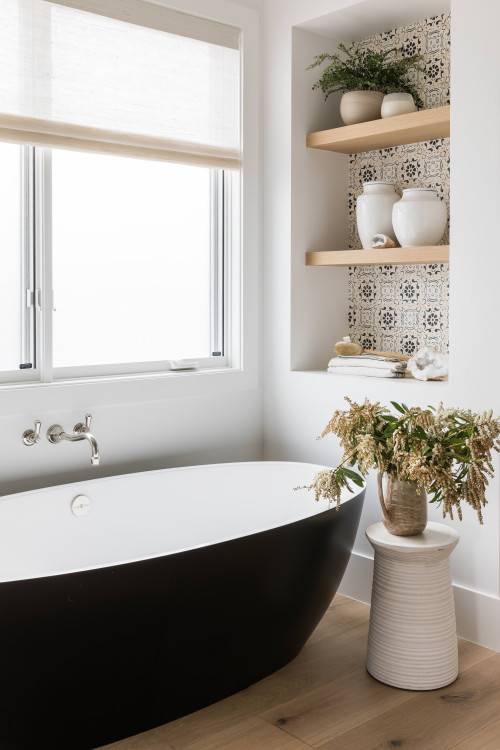 Par Pure Salt Interiors 
Marine accessories
As already mentioned, a seaside bathroom must above all evoke all that's natural. Why not go for a raw, stone basin for the sink, or an open-spout faucet that flows like a gentle stream or waterfall? Choose a few well-selected natural elements, like shelves and other items suspended by rope, round wooden mirrors, woven wicker or rattan baskets, or pots of sand or seashells. The key is to choose the right dose: you want a tasteful oceanside vibe, not a bathroom that feels like a souvenir shop!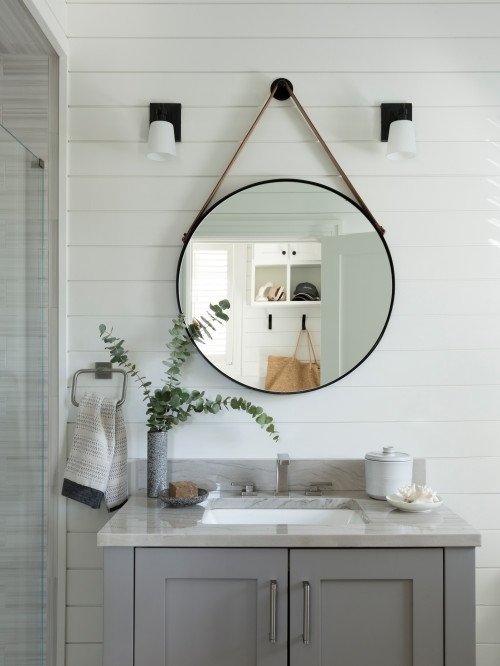 Réalisation par Valerie Grant Interiors